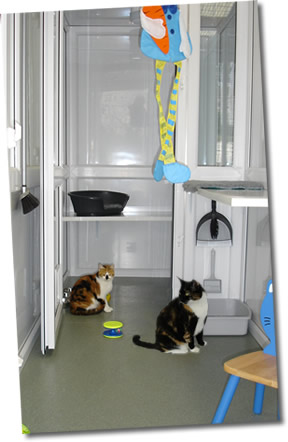 Above: View of the interior of one of our pens
showing the run with the bedroom door open
.

We understand the need for a safe, happy and disease-free stay for all our feline guests and this has been uppermost in the design of the cattery. Our units are built from impervious uPVC and safety glass, which enables ALL surfaces to be hygienically cleaned.
.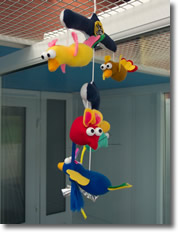 The flooring is by 'Polysafe Vogue Ultra', which is used in veterinary and hospital situations. This forms a non-slip surface and has a 'soft' touch to it, and once again this allows for excellent cleaning conditions.

There is a radio playing at intervals, for a home from home environment, with lots of checks and cuddles throughout the day as standard.
.
All cats will have a daily record card to ensure that we are aware that all bodily functions are working! If not, medical attention will be given sooner rather than later.

We will not accept any cat that is not vaccinated or flea treated before arrival, thus safe-guarding our guests from cross-infections.